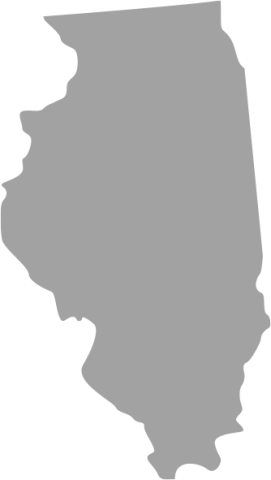 Illinois
In Illinois, a Firearms Restraining Order (FRO) is a civil order that temporarily prohibits individuals who pose a significant danger of injury to self or others from purchasing and possessing firearms, ammunition, or firearm parts that could be assembled to make an operable firearm. Law enforcement and family members (including a current or former spouse, parent, child or stepchild, a person related by blood or present marriage, a person who has a minor child in common with the respondent, or a person who shares a common dwelling with the respondent) are authorized to petition for a FRO. Petitioners may seek an emergency FRO which will be issued on an ex parte basis. If an emergency FRO is issued, the order will remain in place for a maximum of 14 days until the hearing for a six-month FRO, unless both parties agree to an extension. Petitioners may also seek a six-month FRO without first petitioning for an emergency FRO. A six-month FRO is issued after the respondent has received notice and an opportunity to go before a judge to contest the petition. 
To legally possess firearms or ammunition in Illinois, residents must have a Firearm Owners Identification (FOID) card. Similarly, residents must have a Concealed Carry License (CCL) to carry concealed firearms in the state. When an emergency or six-month FRO is issued, the respondent to that order must surrender any firearms, ammunition, and firearm parts that could be assembled to make an operable firearm in their possession to law enforcement for the duration of the order.The respondent's FOID card and CCL are also suspended for that time.
Illinois's FRO law, like other Extreme Risk Protection Order laws, includes due process protections to ensure fairness. Due process protections in Illinois's FRO law include an ex parte FRO issued by a judicial officer; a post-deprivation hearing where the respondent is provided notice and an opportunity to participate; and the requirement of substantial and credible evidence (e.g. the enumerated factors the judicial officer must consider) to issue a FRO. 
Explore the following resources to learn more about Illinois's FRO law:
Background: In July 2018, Governor Bruce Rauner signed House Bill 2354 into law creating Illinois's Firearms Restraining Order. The law went into effect on January 1, 2019. Training for various law enforcement agencies, health professionals, and advocates began shortly after the bill was signed into law. Training includes information about how the FRO works (including qualifying criteria; authorized petitioners; petition, service and firearm dispossession; and return of guns) and how the FRO interacts with other policies.