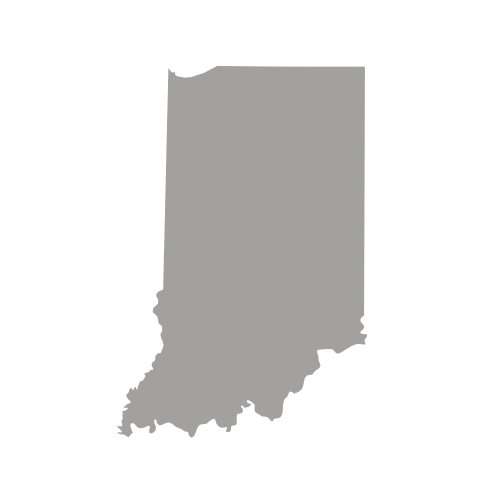 Indiana
Under Indiana's risk warrant law, also known as the "Jake Laird Law," a law enforcement officer may seize firearms from a person who poses a danger of injury to self or others.1
Officers may seize firearms with a warrant that is served within 48 hours, or without a warrant during the normal course of law enforcement duties, but with later court approval. Officers seeking a warrant or wishing to retain firearms after seizure without a warrant must submit an affidavit that describes the dangerous person and their behaviors to the circuit or superior court. A court hearing is held within 14 days following the seizure where a judge determines if the law enforcement agency may continue to hold the firearms or if they must be returned to the individual. If the judge rules against the individual, they may petition every 180 days to have their firearms returned.
Indiana's risk warrant law, like other states' Extreme Risk Protection Order laws, includes due process protections to ensure fairness. Due process protections in Indiana include a post-deprivation hearing where the respondent is provided notice and an opportunity to participate; protections also include the requirement of substantial and credible evidence when law enforcement intends to retain custody of the firearms.
Explore the following resources to learn more about Indiana's law:
Background: Indiana's law is named for a law enforcement officer - Jake Laird - who was shot and killed while responding to a call of a man walking in a neighborhood street with a rifle in August 2004. An investigation determined that earlier in the year, the shooter had been emergently detained and his firearms seized, but his firearms were subsequently returned to him because the law enforcement agency did not have the authority to hold them.2 The law was passed in 2005 by a near-unanimous vote in the state Senate and a unanimous vote in the state House. The law was amended in 2019 to clarify the process for judicial proceedings.
1 Law enforcement may seize firearms from an individual who is "dangerous." An individual is "dangerous" if (1) they pose an imminent risk of personal injury to self or others, or (2) it is probable the individual will present a risk of personal injury to self or others in the future and they (a) have a mental illness that may be controlled by medication, and has not demonstrated a pattern of voluntarily and consistently taking medication while not under supervision, or (b) there is a reasonable belief that the individual has a propensity for violent or suicidal conduct. Ind. Code § 35-47-14-1(a).
2 Remembering Jake Laird, the officer whose death inspired Indiana's 'red flag' law, IndyStar