Obesity & The Food System
Treating People Before They're Sick: Q&A with Bloomberg Fellow Amber Canto
May 19, 2020
Amber Canto says that food has always been a strong part of her culture and identity—a way to celebrate events and show love. But she was driven into the field of nutrition and dietetics by a tragic event: her father died of a heart attack when Amber was a senior in high school. After originally considering a pre-med program in college, she decided instead to focus on nutrition. She looked for opportunities to work in primary prevention—treating people before they're already sick.
After earning her MPH in nutrition from the University of North Carolina at Chapel Hill, Amber focused on maternal and child nutrition. She implemented an infant and young child feeding intervention for UNICEF along the Haiti/Dominican Republic border after the major 2010 earthquake, and also worked as a specialist in poverty and food security for the University of Wisconsin-Madison Division of Extension. She is now the director of the university's Extension Institute for Health & Well-Being, where she leads planning, implementation, and evaluation of community-based health promotion programs that focus on nutrition, mental health, and healthy food access.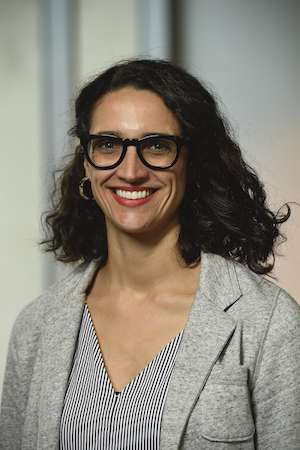 We spoke with Amber about her passion for addressing health inequalities and how being a Bloomberg Fellow will help her achieve the "Wisconsin Idea."
What drives you? How did this bring you to your interest in public health?
Food is a basic human right, and ensuring access and availability to healthy affordable foods for all individuals at all times has been the basis of my work as a public health nutritionist. Food is an extremely powerful connector and is deeply linked to personal values, family traditions, and societal constructs. And yet, not all individuals have equal opportunity to achieve healthy eating behaviors. I'm committed to addressing root causes of diet-related disease disparities within our complex food system.
What public-health related work have you done that you're most proud of?
I've been fortunate to hold a variety of positions, both domestically and abroad, that have allowed me the opportunity to promote nutrition and food security, with an emphasis on maternal and child populations. But one of the experiences I am most proud of is my time as State Program Coordinator for FoodWIse, a federally funded community-based nutrition program at the University of Wisconsin-Madison Division of Extension. In a matter of a few years, I successfully transitioned the large, statewide FoodWIse program from predominantly implementing direct education to adopting a multi-level framework including policy, systems and environmental change, and social marketing strategies. We also created the necessary infrastructure to implement a statewide evaluation framework, resulting in the ability to evaluate grant program effectiveness based on shared measures.
What question or problem in your community keeps you up at night?
As a public health community and institution, how can we move beyond theory to action and increase our effectiveness in addressing health inequities?
How is the Bloomberg Fellows Program helping you to tackle that problem? What impact do you hope you to make as a Bloomberg Fellow?
The Bloomberg American Health Initiative is a bold and innovative effort driven by a commitment to improving public health. University of Wisconsin-Madison Division of Extension has an equally strong mission to extend the reach of the university to the borders of Wisconsin and beyond, and to engage people in transforming lives and communities—often referred to as embodying the Wisconsin Idea.
My hope is that my time at Hopkins and completion of the DrPH with a concentration in Health Equity and Social Justice will strengthen my skills in leadership and applied research and increase our organizational capacity to address significant health and nutrition disparities.
Stay Connected to the Initiative
Receive all the latest news from the Initiative by following us on Twitter, signing up for the American Health Dispatch newsletter, subscribing to the American Health Podcast, and subscribing to our YouTube channel.
Contact Us