Obesity & The Food System
Q&A: Kaitlyn Neises-Mocanu
October 25, 2019
When Bloomberg Fellow Kaitlyn Neises-Mocanu and her husband moved from Iowa to the Northern Mariana Islands over eight years ago, she didn't expect to become a passionate advocate for health in this U.S. territory in the northwest Pacific Islands. Then an English teacher, Kaitlyn soon shifted to a job with the Northern Mariana Islands government, helping people without insurance navigate the Affordable Care Act and get coverage. In that role, she learned a lot about the state of public health in the islands, she says, and she wanted to do more.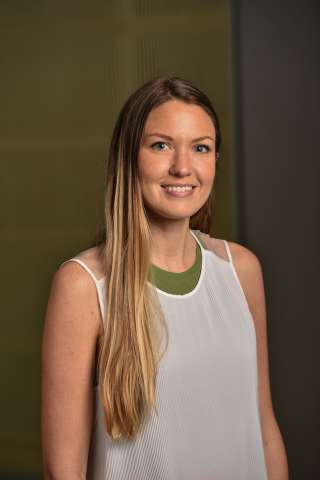 Just over 50,000 residents live on the islands, which are located about 7,000 miles from the continental U.S. The leading industry is tourism. As a U.S. territory, the Northern Marianas are subject to American economic and judiciary rule but, beyond that, they are self-governing.
Today, Kaitlyn has a more wide-ranging role as a policy specialist for the Commonwealth Healthcare Corporation, which functions similarly to a state department of health but runs independently from the government. With the legislature, Kaitlyn works on putting in place policies to promote public health and improve health care financing for the government-run hospital, outpatient clinics and public health services. One focus is making healthy food accessible. 
We talked to Kaitlyn about public health concerns on the islands, improvements the legislature is considering and the value of the "Bloomberg School network."
What are the risks to public health facing the community in the Northern Mariana Islands? 
Most people here are living below the poverty line, so few can actually afford health care — and not having access to health care is a public health crisis. Half of all adults here don't have health insurance.  There is also a barrier to accessing healthy food. Despite traditional foods like taro, banana, mango and sweet potato being grown here, poor diets caused by imported foods are very common. Half of all adults have hypertension, 18 percent of adults have diabetes, and it's not uncommon to find someone in their 50s on dialysis. Child obesity is also a concern. A lack of accessible health and outreach services are the root of these issues. It's a slow-burning community crisis, but it's there. 
What are some of the policies and programs you're working to implement? 
One policy that we're focusing on during this legislature is a "complete streets" policy. We have extreme fluctuations of economic growth, which is common to island economies. But as a result, development happens very fast in some areas with little planning. The island is built for cars, and it's hard to function without one. There are no sidewalks to access central locations. We want to legitimize the choice to walk, and we hope that building sidewalks will do that and change perceptions of exercise and physical activity in the community. 
We're also working on a healthy stores initiative to get healthy drinks and snacks in stores. We're specifically focusing on stores close to schools because they have also been getting serious about providing healthy food options, and we want to support their policy change.    
What has been the best part of your experience as a Bloomberg Fellow? 
The network through the Bloomberg School alone is so valuable. We don't have a lot of public health professionals on the islands, so there's little opportunity to brainstorm solutions and bounce ideas off others with experience. For example, I recently reached out to the Bloomberg School network about food stamps and how to eliminate sugary drinks from benefits. Seventy-five percent of the population here drinks one sugary drink every day — a lot of people don't even know it's bad for you. Eliminating sugary drinks from supplemental nutrition benefits is a controversial policy and other states have failed in their attempts to pass it, and I've gotten great feedback from people who have already worked on this issue. Having a community away from here to lean on and get support from has been really valuable to me. 
Stay Connected to the Initiative
Receive all the latest news from the Initiative by following us on Twitter, signing up for the American Health Dispatch newsletter, subscribing to the American Health Podcast, and subscribing to our YouTube channel.
Contact Us