Obesity & The Food System
Q&A with Bloomberg Fellow Lacy Stephens
March 22, 2021
As a young adult, Lacy Stephens lived in Kansas City next to one of the biggest farmers markets in the Midwest. As she shopped on market day each week, she got to know the farmers and the incredible impact that healthy food could have on her body and the community. With a growing awareness that she wanted to play a part in food systems, she moved to Central America for several months, working on organic farms to understand better how food grows and makes it to market. She then moved back to the Midwest, working on farms and farmers markets, doing food and nutritional education, and working with children on classroom gardens.
"I thought, how do I make a career out of this while supporting healthy food systems?" she remembers. To achieve this goal, she got a degree in dietetics and nutrition from the University of Central Missouri, moving directly into a masters of science degree at Montana State University-Bozeman in sustainable food systems/dietetics.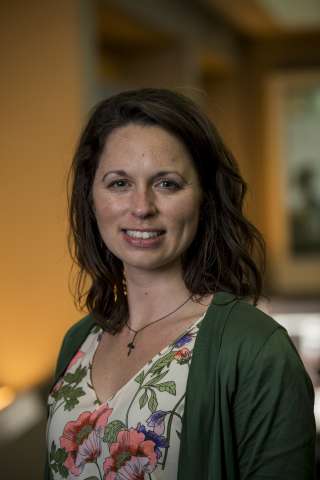 Now, Lacy is a senior program manager at the National Farm to School Network, where she helps build relationships with local and national partners to bring healthy, local food to schools. We spoke with her about her work and how being a Bloomberg Fellow can help support her drive to bring food equity to children across the country. 
What drives you, and how did this bring you to your interest in public health?
It is a basic right to have access to healthy, culturally appropriate, and affordable food that is produced in a way that supports a just and sustainable food system. I strongly believe that every child has the right to grow up healthy and experience the joy and wonder of growing and eating fresh, healthy food. Bringing a public health lens to the complex and systemic issues linking food systems and health will allow us to identify new and creative ways to change the status quo and unique partnerships to propel innovative initiatives to address these issues.    
What public-health related work have you done that you're most proud of?
I am most proud of the work that I have done in my role with the National Farm to School Network in training our partners across the country to be leaders in advancing equity in food systems and education through farm to school approaches. We work closely with individuals in state agencies, non-profits, and University Extension to provide them with the tools, information, and support they need to enhance procurement and educational practices across their state by integrating food, nutrition, and agriculture education and local food purchasing into schools and early care and education settings. 
What question or problem in your community keeps you up at night?
How do we change our food system to support the health of communities and individuals? Can we work within the current systems and structures or do we need to make more drastic changes and rebuild a system that actually holds equity at the center of our food systems and public health approaches?  
How is the Bloomberg Fellows Program helping you to tackle that problem? 
Staff and faculty at Johns Hopkins are at the vanguard of food systems programs and research. I am eager to learn from these leaders in the field and identify opportunities to bring this wealth of knowledge back to my organization. The more we can learn about approaches and interventions that work to create positive change in community food systems, the greater opportunity we have to scale these approaches and impact more communities and individuals.  
What impact do you hope you to make as a Bloomberg Fellow?
I am thrilled to build and enhance relationships with diverse food systems and public health leaders in order to strengthen the connection between the farm to school/institution movement and broader food access initiatives. I hope to continue to develop cross-sector collaborative efforts that support meaningful change in the field. I look forward to connecting with faculty and Fellows to coordinate our work and efforts and ensure that all voices, especially those most impacted by disparities in health and food systems, are included in our initiatives and decision making. I am eager to bring an equity centered approach to our collaborative public health and food systems work.
 
Stay Connected to the Initiative
Receive all the latest news from the Initiative by following us on Twitter, signing up for the American Health Dispatch newsletter, subscribing to the American Health Podcast, and subscribing to our YouTube channel.
Contact Us