Obesity & The Food System
Leveling the Playing Field for Access to Healthy Food: Q&A with Bloomberg Fellow Amelia Hulbert
March 11, 2020
Amelia Hulbert didn't plan to work in public health, but looking back, the path she's taken is clear. "I've always been driven by the idea that to prevent adverse outcomes, eliminate disparities, and improve the health of communities we have to drill down to the root causes and authentically engage and learn from those most impacted. Turns out I was searching for public health before I even knew what it was," she says.
In 2017, Amelia started working with Boulder County Public Health as a Public Health Associate, through the Centers for Disease Control and Prevention's Public Health Associate Program (PHAP). She's now a Healthy Eating, Active Living (HEAL) Specialist, leading and supporting several programs designed in collaboration with underserved communities to increase their access to fresh, nutritious food.
We spoke with Amelia about her passion for food equity, and how her Bloomberg Fellowship is helping her level the playing field for access to healthy food.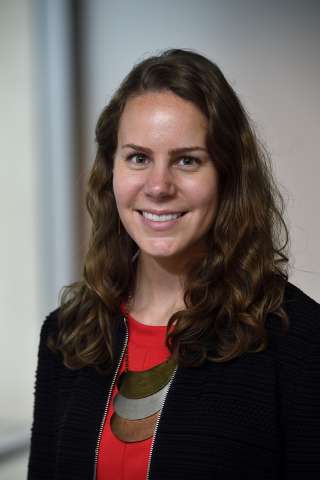 What drives you, and how did this bring you to your interest in public health?
Everyone, regardless of their income or neighborhood, deserves the same opportunities for health and well-being. The health injustices we see today are products of systematic power imbalances, racism, and prejudice. Our efforts on prevention must include redesigning structures so that communities can lead and dictate their own health outcomes.
  
What public-health related work have you done that you're most proud of?
I'm most proud of a WIC (Women, Infants, and Children) Farmers Market program I've supported and helped implement over the past several years. WIC is a critically important supplemental nutrition assistance program for families. Yet Colorado WIC families might receive as little as $9/month to spend on fruits and vegetables. 
We were able to implement a local program, funded by revenue from the City of Boulder's sugary drink tax and other local funding sources, to provide WIC families with more access to fresh fruits and vegetables. The program allows WIC families to receive $20/market to spend on fresh fruits and vegetables during the Boulder County Farmers Market season (April–November). These dollars are in addition to their WIC benefit package. 
We piloted this program in the city of Boulder at the end of the growing season in 2017, and it was incredibly successful; nearly $11,000 was distributed in 4 weeks. In the 2018 season, $85,200 was distributed. During the 2019 season, $123,309 was distributed, benefiting 1,010 children and 569 WIC families. All dollars go directly back to our Colorado local farmers. The feel of the market has truly changed. Families who wouldn't have been able to shop there before are now coming back week after week and participating in the local food economy. These types of programs are a triple win for participants, the community, and local agriculture.   
 
What question or problem in your community keeps you up at night?
Globally, poor diet is one of the main contributors to death and disease. Even in Boulder, a place known for its health and wealth, not all members of the community have access to healthy foods. The most common barrier to accessing fresh fruits and vegetables in Boulder County is cost. Cost of living is high, and many cannot afford rising rents, other expenses, and the food needed to maintain a healthy diet.
We need food equity. If a family is struggling to make ends meet, their only food options should not be calorie-dense, nutrient-poor, and processed. They deserve access to fresh, local, and affordable healthy foods. We must reimagine and reconfigure our food systems so that they work for everyone. 
 
How is the Bloomberg Fellows Program helping you to tackle that problem? What impact do you hope you to make as a Bloomberg Fellow?
The Bloomberg Fellows Program allows me to connect, share, and learn with staff at the Bloomberg School of Public Health, other Fellows, and students who are tackling similar issues. I love that Fellows are from different parts of the nation; it's fascinating and inspiring to learn what others have tried and how they've succeeded in other regions of the country. The Bloomberg American Health Initiative is such an incredible resource, and I've enjoyed the opportunities to collaborate and learn from food systems experts. As a Bloomberg Fellow, I hope to gain skills and connections that help my agency move our work forward, utilizing best practices in terms of policy, evaluation, and innovative solutions to ensure we are having the greatest impact in making food and beverage environments healthier for all residents. 
 
Tell us something surprising or unexpected about yourself or your work.
I moved out to Colorado without ever having visited. It's been my home for three years now, and moving here is the best decision I ever made. Although this is my first time ever being landlocked (I'm from the beaches of North Carolina), I'm managing with the help of the incredible Boulder Flatirons and the Rocky Mountains. In my free time from work and school, I enjoy hiking with my Ecuadorian street dog, Perry, who found me when I was living in Ecuador 5 years ago. I've learned to embrace winter by continuing to practice my downhill skiing and learn what the heck snowshoeing is!
Stay Connected to the Initiative
Receive all the latest news from the Initiative by following us on Twitter, signing up for the American Health Dispatch newsletter, subscribing to the American Health Podcast, and subscribing to our YouTube channel.
Contact Us