Environmental Challenges
Getting Out Ahead of Water Infrastructure Challenges: Q&A with Bloomberg Fellow David Harvey
August 6, 2020
While David Harvey was studying engineering, he was drawn to topics that had the broadest impact on populations: drinking water, wastewater treatment, and hazardous waste remediation. After completing his degree, he began utilizing these technical skills—first in private industry, and later in the federal government—to help individuals and communities improve their quality of life through access to treated drinking water and waste disposal practices. However, as his career progressed, David realized that longstanding solutions to the issue of access to safe drinking water and basic sanitation were not only a technical problem.
"A quote by Chris Heysmen with the World Health Organization summarizes this idea best: 'It is not just about fixing pipes; it is about fixing organizations that fix pipes,'" David says. "The need to understand and help motivate organizations to achieve equitable and sustainable solutions to maintaining access to safe drinking water and waste disposal is what drove me to get a master of public health degree, and it continues to motivate me to complete a doctor of public health program."
David is now the Deputy Director of the Division of Sanitation Facilities Construction at the Indian Health Service in Rockville, MD. We spoke with David about how changes at the system level could improve the water infrastructure to promote public health—and about his work with the Navajo Nation during the coronavirus crisis.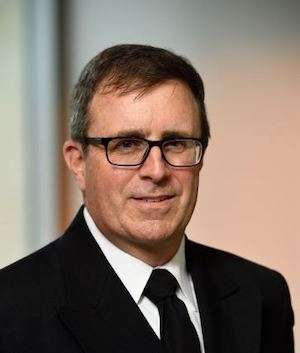 What drives you, and how did this bring you to your interest in public health?
I'm driven to improve the quality of life for individuals and communities. When faced with a decision about what to study in college, it was a toss-up between political science or engineering. Political science was my first inclination, as political institutions in the United States guided under the context of the Constitution were established in part to "promote the General welfare," and I wanted to be involved in those institutions to help that occur. An intervention by my father helped me see that having technical knowledge would be key to delivering solutions to problems that impacted the general welfare, so I decided to study engineering. Public health will help me solve these problems at an even higher level.
Prior to COVID-19 what public-health related work have you done that you're most proud of?
Coordinating the technology selection, construction, and operational training of an arsenic removal water treatment facility serving the Fallon Paiute-Shoshone Tribe, a Native American community of about 1,200 people located in Northern Nevada. This treatment facility was the first of its type constructed in Indian Country and has been successfully operated since 2005 by the Tribe, reducing drinking water arsenic concentrations from over 100 parts per billion (ppb) to the regulatory level of 10 ppb set by U.S. Environmental Protection Agency under the Safe Drinking Water Act. The approach applied in Fallon was replicated in two other Native American communities in Nevada.
How has COVID-19 changed your work?
COVID-19 has greatly impacted the way I work, which is now 100% remote from my office while directing program staff located on the Navajo Nation. COVID-19 has also refocused the importance of the work I am doing to support Native American communities increase access to water. COVID-19 infections are impacting the Navajo Nation disproportionally; as of mid-July, 74% of all COVID-19 related outpatient visits and 83% of all COVID-19 related hospital admissions within the Indian Health Service (IHS) hospital and clinical system occurred on the Navajo Nation. The disproportionate impact of the virus on the Navajo Nation is likely attributable to the lack of access to water. IHS estimated that, at the start of the COVID-19 outbreak on the Navajo Nation, over 20% of the population—that's people living in 9,650 homes—lacked access to piped water. Without water access, fundamental public health strategies to break the chain of COVID-19 infections, such as handwashing and surface cleaning, cannot be undertaken.
As a result of this fact and at the invitation of the Navajo Nation President and Vice President, the IHS and the CDC deployed staff to assist the Tribe and identify urgently needed solutions to increase water access. The Navajo Nation COVID-19 Water Access Mission has identified multiple interventions, including increasing the number of available safe water access points by 53 to 110 total across the Navajo Nation and developing a safe water storage program to distribute up to 37,000 water storage containers and over 3.5 million doses of water disinfectant to ensure stored water safety.
Mission interventions are being guided by the Navajo Nation COVID-19 Water Access Coordination Group (WACG), a group that I formed and lead. The group currently has 21 collaborating partners from the Navajo Nation government, federal and state government, public health universities, and nonprofit organizations.
What question or problem in your community keeps you up at night?
The historical focus of the federal government on building infrastructure and providing technical assistance to help ensure access to safe drinking water and waste disposal is not the most efficient utilization of resources in communities that lack the resources to operate and maintain the facilities provided. There are many federal programs authorized and funded to support water infrastructure construction and technical assistance, but they have limited authority or funding to support direct operation and maintenance of the facilities provided. Waiting to provide funds until a system break occurs is a typical approach of many government programs tasked with supporting American communities. As a result, these programs fall short, especially in disadvantaged communities.
 How is the Bloomberg Fellows Program helping you to tackle that problem? What impact do you hope you to make as a Bloomberg Fellow?
Through my studies supported by the Bloomberg Fellows program, I hope to tackle this problem by further developing my skills to identify ways to gather data that demonstrate the magnitude of the problem, develop intervention proposals that address the problem, and learn approaches to advocate for and influence policy change. I hope that as a Bloomberg Fellow, I can help disadvantaged American communities get out ahead of the water infrastructure challenges they face, so that the people in these communities have access to safe drinking water and methods of waste disposal that minimize environmental harm and promote public health.
Stay Connected to the Initiative
Receive all the latest news from the Initiative by following us on Twitter, signing up for the American Health Dispatch newsletter, subscribing to the American Health Podcast, and subscribing to our YouTube channel.
Contact Us