Addiction & Overdose
Family Medicine Physician Addresses Epidemic: Q&A with Bloomberg Fellow Nathan Kittle
February 10, 2021
As a family medicine physician working in a small community in Auburn, WA, Nathan Kittle gets a glimpse of that community with every patient visit. Within the last several years, he's seen the ravages of the opioid epidemic firsthand and felt his calling to respond both inside and outside his clinic's walls. He and his colleagues have quickly mobilized to create partnerships, open lines of communication, and advocate for patients and their families. In addition, in his role as a faculty member at The Wright Center National Family Medicine Residency program at HealthPoint Community Health Center, he is helping to teach future family medicine physicians how to engage with patients and their communities to fight this epidemic together.
Through his Bloomberg Fellowship, Nathan is hoping to advance the conversation around opioids in his own organization, as well as local and national service agencies in regards to service integration and communication. With a solid framework in public health practice, he hopes to improve his own work and what he teaches, moving the needle forward in his own community and others. "While I hope the opioid epidemic slows and eventually stops," he says, "there will be more community concerns and public health issues to tackle in the future."
We spoke with Nathan about his clinical work and how he's hoping to build better systems to fight opioid misuse.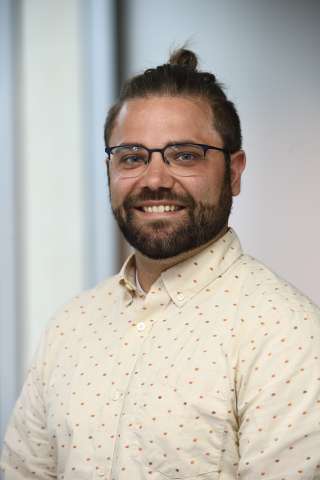 What drives you, and how did this bring you to your interest in public health? 
I'm driven by equity: One person or community or population should not be valued more highly than another. As a family medicine physician working in community health, I have quickly learned that equity is something I can generally provide to patients in my exam room. What I have come to appreciate is the inequity that exists outside my clinic's walls. Public Health training provides me the opportunity to learn skills and information to work in my patients' communities and begin to correct the inequities in our society.
What public-health related work have you done that you're most proud of?
My colleagues and I were seeing the uncontrolled fury of the opioid epidemic three years ago— patients in the emergency room for abscesses, non-fatal overdoses, in the hospital with blood infections from IV heroin use and an uptick in Hepatitis C infections in our primary care centers. Buprenorphine is a medicine that has been shown to improve all of these measures and, more importantly, keep people alive while they seek help in their recovery efforts. Our standard clinic setting was helping some but not all the patients who need help. I followed the example of some colleagues in a nearby community and opened up a buprenorphine walk-in clinic for the patients who couldn't seem to make their appointment times. Now, for 4 hours a week, we see anyone who walks in and help them get started on the medication that can save their life and help to turn their life around. We also provide primary care and create a medical home that patients greatly need. This model has been replicated in the other clinics in my organization, and we have increased our treatment population by three to four times.  
What question or problem in your community keeps you up at night?
How can we build better systems that are not duplicative and are able to communicate and integrate services across agencies and organizations? In my work in addiction and overdose prevention, the influx of dollars to begin to tackle the epidemic has been welcome, but I'm finding the coordination of services and the support for individuals trying to navigate the services has not been streamlined in an effective way.
How is the Bloomberg Fellows Program helping you to tackle that problem, and what impact do you hope to make?
Coursework in advocacy, systems thinking, and leadership, among others, allow me the space to think about how to begin conversations within my community about service integration and developing coordinated systems. Additionally, the program gives me access to other professionals throughout the country who are dealing with similar issues - how are they tackling the lack of coordination? What are their successes? What are their failures? In work that does not leave much room for error, the Bloomberg Fellows Program gives me access to others who are working to solve similar issues. 
  
Stay Connected to the Initiative
Receive all the latest news from the Initiative by following us on Twitter, signing up for the American Health Dispatch newsletter, subscribing to the American Health Podcast, and subscribing to our YouTube channel.
Contact Us