Adolescent Health
Driven to Improve Student Health: Q&A with Bloomberg Fellow Wadezah McCullough
March 6, 2020
During college at a summer enrichment program on the medical sciences, Wadezah McCullough sat in on a presentation by a public health student. She became captivated by a field that, before then, she hadn't realized existed.
Wadezah soon looked for opportunities to learn more about public health, enrolling in a summer public health program the next year at Morehouse School of Medicine. There, she made connections with the faculty and participated in research on attitudes surrounding the HPV vaccine. After graduating from St. Augustine's University with her undergraduate degree, Wadezah began the MPH program at Morehouse, continuing the same research project she had started the previous summer. For her practicum, she worked with youth, helping to develop teen pregnancy prevention programs.
She later continued working with youth at the Montefiore School Health Program, which provides comprehensive care to more than 45,000 students in school-based health centers on 31 public school campuses. Wadezah now serves as a site administrator, overseeing operations for those health center. "It's extremely helpful, not only for our students but for their parents, to provide a way for children to receive the health services that they may need," she says.
We spoke with Wadezah about her work with youth and how being a Bloomberg Fellow can help further her goals for this population.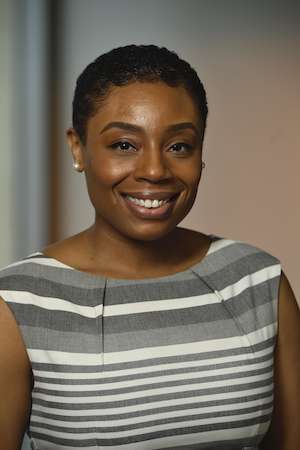 What drives you? How did this bring you to your interest in public health?
The social and health inequities experienced by youth are what drive me as a public health professional.
 
Growing up, I knew I always wanted to help people but was unsure in what capacity. During my undergraduate years, I became a tutor and mentor, helping freshman students transition smoothly into college.
 
During my college matriculation, I participated in a summer science preparation program. I started that program wanting to become an ophthalmologist, but ended the program wanting to pursue more experiences in public health. Being introduced to the field during those few weeks put me on the trajectory I'm on today.
 
As I pursued a Master of Public Health degree, I became passionate about education as a social determinant of health, Black and Brown youth empowerment and engagement, and racism as a barrier to health equity.
 What public-health related work have you done that you're most proud of?
I love being of service to youth in any capacity. As a site administrator, I mainly deal with the operational side of school-based health centers. But knowing that my efforts contribute to the provision of care—medical, behavioral health, dental, and vision—to students makes me proud.
 What question or problem in your community keeps you up at night?
How can we best meet the needs of every young person suffering from current and transgenerational trauma?
What impact do you hope you to make as a Bloomberg Fellow?
I feel the Bloomberg Fellows Program will help guide me towards one specific problem of interest and provide me with the training and skills necessary to research and develop interventions to address the problem.
One of my graduate school professors shared an adage: "How do you eat an elephant? One bite at a time." He told us that's how we have to view public health. There are so many issues and problems that we feel we need to tackle, to the point where it can become overwhelming. But, if we focus on one problem, or even one aspect of one problem, our small changes will eventually accumulate and become larger changes.
 Tell us something surprising or unexpected about yourself or your work.
I'm a cancer survivor/thriver—specifically leukemia. Being diagnosed in my early 20s, at the start of my new career in public health, was difficult to make sense of at the time, but it taught me invaluable lessons that I carry with me every day.
Stay Connected to the Initiative
Receive all the latest news from the Initiative by following us on Twitter, signing up for the American Health Dispatch newsletter, subscribing to the American Health Podcast, and subscribing to our YouTube channel.
Contact Us