Addiction & Overdose
Addressing Suicide and Opioid Overdose in Vermont: Q&A with Bloomberg Fellow Stephanie Busch
October 2, 2020
Bloomberg Fellow Stephanie Busch is the Injury Prevention Program manager with the Vermont Department of Health. She works across the department and with agencies across the state to address the impact of the opioid crisis and on suicide prevention efforts.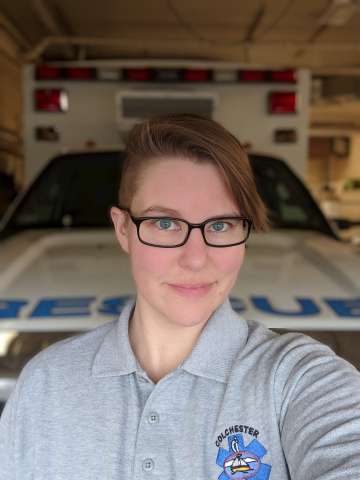 The relationship between the opioid crisis and suicide is complicated. There is an established link between suicide and diagnosed substance use disorder, but that link is not always clear. "We know that these two incredibly complex challenges are interconnected," said Stephanie, "but there's not a hard and fast number that defines the association."
In Vermont, accidental overdose deaths involving opioids increased between 2014 and 2018. Suicide rates have not fluctuated significantly over the past ten years—but the state's rate of intentional self-harm (self-injury without the intent to die) has increased significantly. Vermont's state agencies and community partners are working to address both these issues, implementing comprehensive, evidence-based strategies.
For this National Suicide Prevention Month Q&A, we spoke with Stephanie about Vermont's efforts to address both suicide and opioid addiction and overdose—and how her experience as a volunteer EMT has informed her work at the Department of Health.
What has Vermont's responses to the opioid crisis been? What about suicide and intentional self-harm? Is there coordination at the state level?
Vermont takes an all-hands-on-deck approach to the opioid crisis. Our Opioid Coordination Council, which is led by the Department of Health, leads these efforts, with a coordinated, comprehensive, statewide approach that encompasses prevention, treatment, recovery and enforcement.
Vermont pioneered the hub and spoke system of care. It is a growing, statewide system that features methadone and buprenorphine clinics that serve as hubs to provider office-based treatment spokes. We developed it several years ago, and it has since been adopted as a model across the country.
Significantly, the Hub and Spoke system is imbued with a "looking upstream" philosophy. Meaning, a part of the system is a continually evolving effort to identify how can we prevent people from becoming addicted in the first place. The Opioid Coordination Council provides guiding recommendations to ensure a comprehensive approach.
The work that I do focuses on supporting a statewide approach to ensuring Naloxone access across the board. One of my roles is to make sure that law enforcement, EMS, and all Vermonters have access to Narcan or naloxone, and are trained on how to respond.
To advance the state's suicide prevention efforts, I work closely with our sister agency, the Department of Mental Health and the Vermont Suicide Prevention Center, as well with colleagues in other divisions within the Health Department. Earlier this month, we were awarded the CDC Comprehensive Suicide Prevention grant, which will allow us to strengthen our partnerships and build on our existing foundation work on this difficult this public health challenge. One area I am personally excited about is increasing our outreach to the first responder community around suicide prevention and mental health. If we save a single life, and help even one person realize that they matter, it will be worth every dime.
Vermont has been very successful in fighting the virus, with a 1% positive test rate to date, but the mental and emotional toll of the virus is still significant. How has COVID impacted your work?
It's intense. I'll break it down into two different components. There's the work that I'm doing as a part of the Health Department's Health Operations Center, utilizing the incident command structure as part of our pandemic response. Our 1% positivity rate is a reflection of how well we have worked together—state government and communities responding to COVID 19.
Then, there's the work I do around regarding substance use and suicide prevention, and thinking about how the significant emotional toll and stressors of COVID-19 factor in. Through our Opioid Coordination Council, we're working to ensure access to care and services. For example, we worked with our community partners to allow them to mail Narcan to people who, because of the pandemic, may not be able to travel to access harm reduction services in person. The people who are working on the ground are key stakeholders to inform our service within the community.
When it comes to suicide prevention and mental health, we were thinking early on about the added stress in the community. We know that for people with substance use and substance misuse—already a stressed community—the pandemic is exasperating the challenges exponentially. Unfortunately, we have seen increases in overdose deaths during this time. We are really trying to address those contributing factors and support our community members and community partners.
How do you and the Department of Health address health equity issues in the areas of addiction/overdose and suicide?
Our current State Health Improvement Plan (SHIP) has really taken a health equity lens to our work as a department. Much like Vermont's ongoing health-in-all-policies approach to public health. Earlier this year, the Governor established the Racial Equity Task Force to promote racial, ethnic, and cultural equity, including in our response to COVID-19. The Health Department has a long-standing relationship with our refugee resettlement community partners, and we have been looking for more ways to deepen that work. With our COVID response, we've worked to ensure that people in our limited English populations receive accessible and useful information for how they can keep themselves and their families healthy, and to get resources like masks ─ going through the community leaders and people that they trust. These efforts made a huge difference in our ability to contain and stem an outbreak of COVID-19 in a largely New American community last spring.
For addiction, overdose and suicide, it is really about engaging early and often with community leaders to ensure we have an appropriate strategy. One example is our work with our tribal communities—focusing on what does suicide prevention look like within those communities, and how should it look. It's about really engaging the community and not coming in and saying, you should do this. That takes a lot of relationship building.
How did you get involved in this work?
I volunteer on an ambulance as an advanced EMT, and I see the very real- life impact of these two significant public health issues up close. The devastating impact of both suicide attempts or more broad mental health challenges, and overdoses and people with substance use or substance misuse—I've seen it. I've been in that living room. I've seen those families, the kids that are all touched by this.
When people are calling 911 and reaching out for help, as an EMS provider, there's a unique opportunity to have an interaction with a member of the community. The reason I got involved in this work is thinking about how, as healthcare providers, we are gatekeepers into care and treatment.
The work that I do at the state level and the time I spend in the back of the ambulance — it's driven me to ask how can we take a systems approach, an evidence-based approach, to address these incredibility complex issues, to make a real difference for the people who count on us?
How has your experience as a Bloomberg Fellow been so far?
I feel like I straddle both the Initiative's addiction/overdose and violence focus areas. I don't solely fit in either—but that's where I thrive. I enjoy the gray complexity of these issues. The Bloomberg Fellowship has been an amazing opportunity to have a foot in both focus areas. We have to get outside of our traditional roles and think about these super complex public health issues. How can we think as a system to drive evidence-based decisions and really support impacted people and communities, so it's not just that there are fewer suicide deaths or overdose deaths, but that people are living healthy lives?
If you or someone you know is thinking about or planning to take their own life, there is help 24/7: The National Suicide Prevention Lifeline is a hotline for individuals in crisis or for those looking to help someone else. To speak with a certified listener, call 1-800-273-8255.
Resources
Stay Connected to the Initiative
Receive all the latest news from the Initiative by following us on Twitter, signing up for the American Health Dispatch newsletter, subscribing to the American Health Podcast, and subscribing to our YouTube channel.
Contact Us